The world of events is a highly competitive and complex environment. In order to stand out from the crowd it is critical to have a best-practice event strategy. MI Associates has great expertise providing event strategy services which are designed to maximise client outcomes.
STRATEGY SERVICES FOR GOVERNMENT AND TOURISM ORGANISATIONS
PORTFOLIO MANAGEMENT AND STRATEGY SERVICES
Event Portfolio review and strategy

Master calendar review and/or development

Event Selection & Funding Frameworks - Creating and developing best practice processes & templates

Event KPI development & tracking systems

Identification of unique selling points and areas of competitive advantage

Community Sentiment Tracking.
SUSTAINABILITY AND LEGACY PLANNING SERVICES
Develop future planning strategies to ensure event sustainability and to maximise the host destination legacy.
CONTRACT AND RISK MANAGEMENT SERVICES
Developing Risk Assessment frameworks and templates

Developing Investment agreement templates to maximise ROI and key outcome delivery.
STRATEGY AND ADVISORY SERVICES
Developing Multi-Year event strategies

Creating strategies to increase visitation and ROI to host cities

Maximising visual Brand Impact and value

Providing strategies to improve Event Satisfaction

Developing strategies to increase Visitor Advocacy

Developing strategies to drive future visitation and tourism.
Please reload
NORTHERN TERRITORY
MAJOR EVENTS COMPANY STRATEGIC PLAN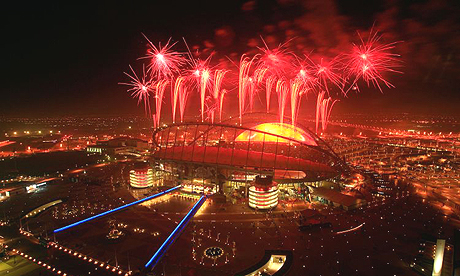 DOHA
2020 OLYMPIC GAMES BID
STRATEGY SERVICES FOR EVENT OWNERS AND RIGHTS HOLDERS
Securing government investment for events is often an intricate and difficult process. In order to maximise future hosting fees, it is essential that an event's value be independently established and the offer tailored in the language and needs of government. MI Associates' expertise can guide you through this complex process and assist you compile a compelling value proposition for future host destinations.
Event Strategy Development

Understanding the processes and systems used by governments to assess event investment

Building business cases to justify the investment in an event using the language of government and focusing on the delivery their key objectives and outcomes

Identification of unique selling points and areas of competitive advantage

Community Sentiment Tracking.
We assist event owners establish what their event is worth to a potential host city by conducting independent tourism, economic, media & community impact assessments. This enables event owners to maximise potential funding from host destinations.
Multi-year event strategies

Strategies to increasing visitation and ROI to host cities

Maximisation of host destination brand impact

Plans to ensure the event leaves a lasting legacy on the host city

Strategies to improve event satisfaction
Please reload
VALUING BMX AUSTRALIA'S
NATIONAL CHAMPIONSHIPS FOR FUTURE HOST DESTINATIONS
TOUCH FOOTBALL AUSTRALIA
ESTABLISHING THE VALUE OF KEY ANNUAL EVENT PROPERTIES